19

08
19

09
19

10
19

11
19

12
19

14
19

15
19

16
1917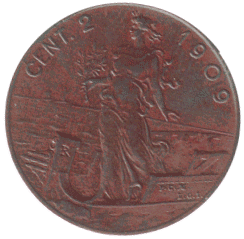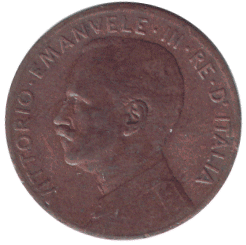 Diameter:20 mm
Metals: Copper
Weight: 2 g
This coin was minted in the years you see on the left. Difficult to found are: 1908(very rare coin), 1910, 1912.
The coins have an R on the bottom, it means "Roma", the Capitol, on the year 1908 the R is made engraved inside to be relief.
The metal used for this coins came from the fusion of 5.000.000 pieces of 10 Centesimi of Umberto I.

Smooth border