19

08
19

09
19

12
19

13 D'·Italia
19

13 D'Italia
19

15
1918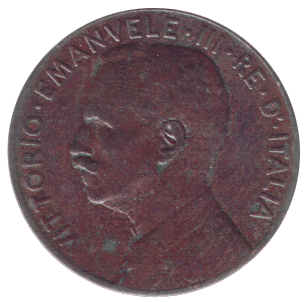 Diameter:25 mm
Metals: Copper
Weight: 5 g
This coin was minted in the years you see on the left. Difficult to found are: All, 1908 is a rare coin, 1913 D'Italia is very rare coin.
The coins have an R on the boat, it means "Roma", the Capitol, on the year 1908 the R is made engraved inside to be relief.
In 1913 can be written on the coin "D'·Italia" with a dot in between the apostrophe and the word Italia, the coin with "D'Italia" without the dot is very rare!
The metal used for this coins came from the fusion of 5.000.000 pieces of 10 Centesimi of Umberto I.

Smooth border